4 Examples of Modern-Day Space Division
Highly functional buildings are designed to suit the needs of the people who occupy them, and all the various activities, tasks, events, and modalities they require. For architects and designers to make a space truly optimized, they must consider not only how the space will be used by each person or group, but also how it can be quickly, efficiently, and effortlessly transitioned from one purpose to another. Let's take a look at how interiors can be converted for various industries with state-of-the-art space management solutions.
Whether showcasing a new retail collection or hosting larger banquet parties, retail and restaurant spaces call for a high degree of flexibility in their division of space. Consider the Cheesecake Factory in Salt Lake City, Utah. Not only do they need to be able to subdivide larger spaces for day-to-day diners, but also have the ability to host larger groups and meetings. They needed a solution that allowed any member of their staff to move operable partitions quickly, and without disturbing nearby diners. Horizontal partitions from our manufacturer partner Modernfold were chosen because they are customizable to match their decor and offer optimal ease of operation.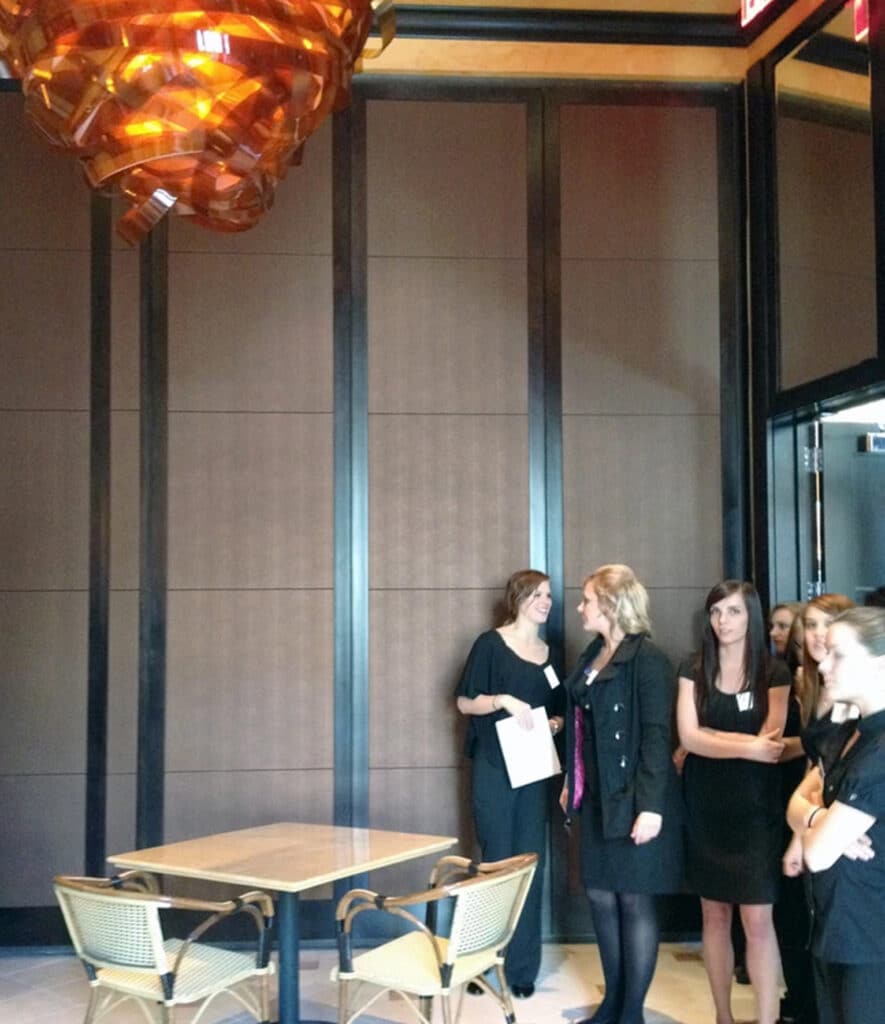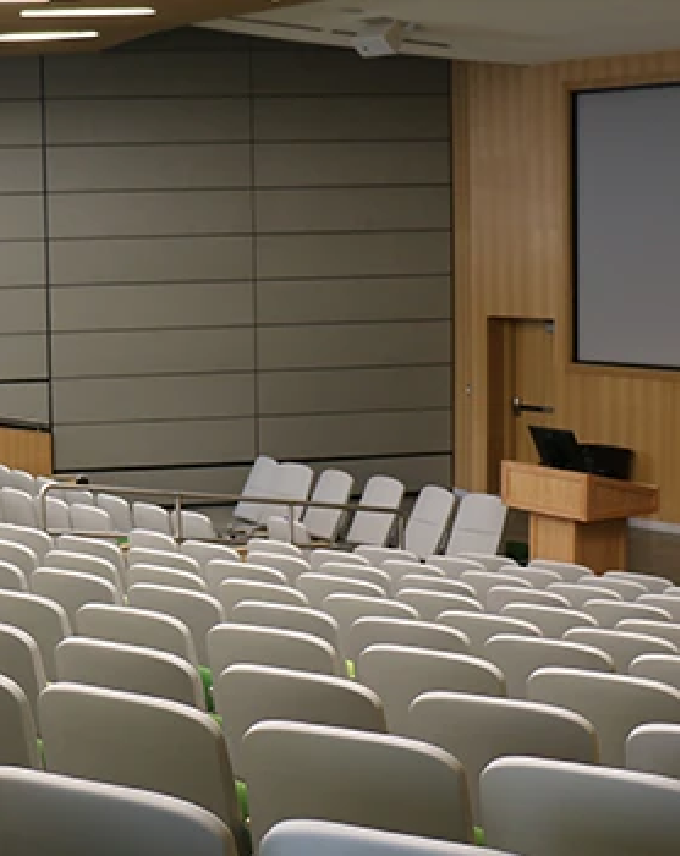 Educational and Institutional
Silence is golden, particularly in spaces designed for learning, research, lectures, quiet study, and reading. In universities and schools with libraries and classrooms, helping inhabitants focus through thoughtful space division is a top priority for architects and designers.
Sound-resistant partitions from our manufacturer partner Skyfold, an industry leader in the moveable wall concept, have been installed at Utah Valley University, which allow for larger lecture halls to be sectioned off for smaller classes. They also help enhance safety, security, and thermal efficiency. These moveable partitions take acoustics into consideration which helps to create a sound barrier as well as a room divider.
Soundproof barriers are essential for music classes, gymnasium areas, libraries, auditoriums, and theaters. Options from Skyfold and Modernfold are ideal for educational settings that feature larger halls and classrooms.
Hotels and Convention Centers
Each group that uses a hotel meeting room, ballroom, or convention center may require a custom configuration. Elegantly matched vertical partitions at the Grand America Hotel were customized to blend into the current room decor in a blending of form and function. Individual pass-through doors for hotel staff blend in to create a seamless look when not in use.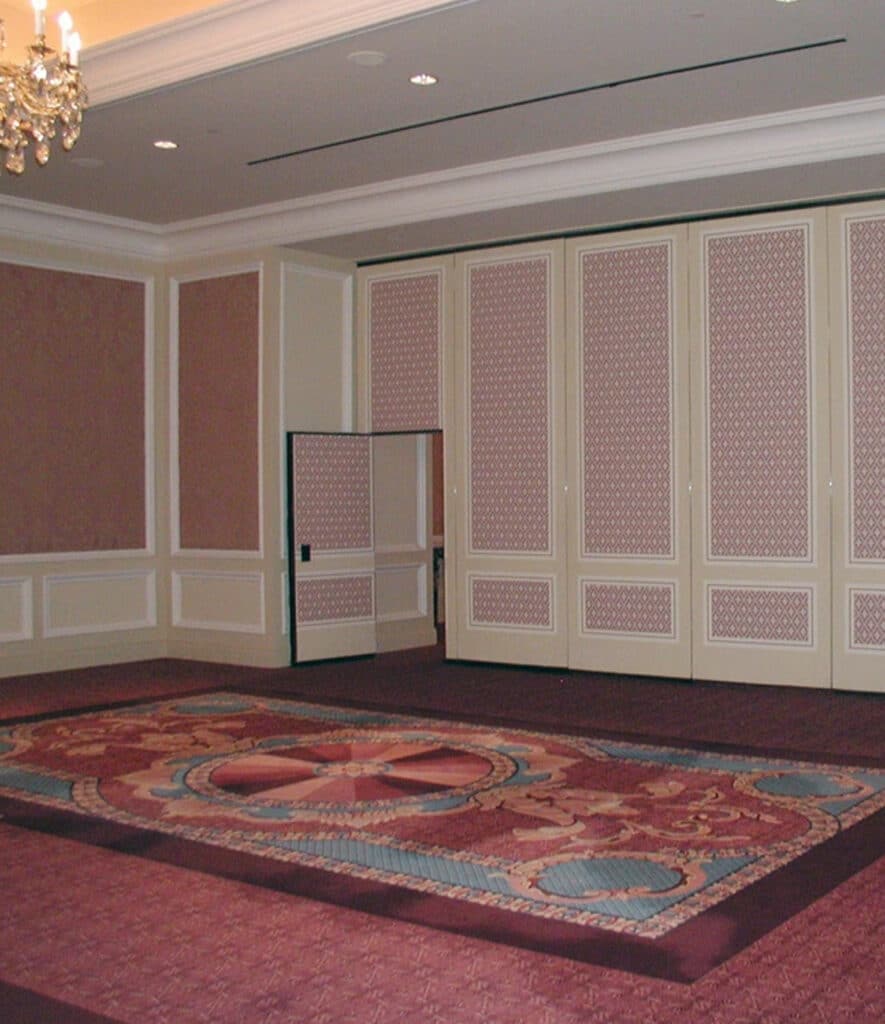 Studies have shown that access to natural light increases employee productivity and positively impacts mental health. Allowing natural light to flow throughout an office while creating separate offices and meeting rooms was a top consideration for CBRE in their executive meeting space. Instead of a dark and stuffy conference room, their elegant glass wall system creates a natural, welcoming environment that is optimal for creativity. Internal blinds that don't require dusting were installed to create optional privacy screens for adjacent offices. Sliding partitions can also be customized to stand out and bring natural beauty indoors.
Whether your space calls for room division that fades into the background or stands out as a work of art and conversation piece, Alder's has solutions for you with the help of our network of manufacturer partners. Learn more about energy efficiency and savings, as well as stylish design and functionality these space management solutions can offer by reaching out to us today.