Case Studies: Las Vegas Raiders Stadium
Developer: The National Football League
Architect: Manica Architecture & HNTB Corporation
General Contractors: Mortenson / McCarthy Joint Venture
With an impending move of the Oakland Raiders to Las Vegas, the NFL needed a state-of-the-art facility and headquarters for the team's new home. Allegiant Stadium, completed in 2020, now serves not only as the home stadium for the Las Vegas Raiders, but also for the University of Nevada, Las Vegas Rebels college football team. Additionally, the stadium also hosts both the Las Vegas Bowl and the Vegas Kickoff Classic.
This 10-level domed stadium seats 65,000 and is directly adjacent to the famous Las Vegas Strip. An additional space, Raiders Headquarters, is approximately 10 miles south in Henderson, Nevada. The architects and builders knew the importance of security and privacy for both of these locations, and the stadium's massive size and proximity made it especially challenging with the constant flow of traffic nearby. Because Allegiant Stadium has many users, the architects needed to ensure that its design would be flexible and adaptable for various organizations.
Enter Sunstone Building Specialties, the Las Vegas branch of Alder Sales Corporation.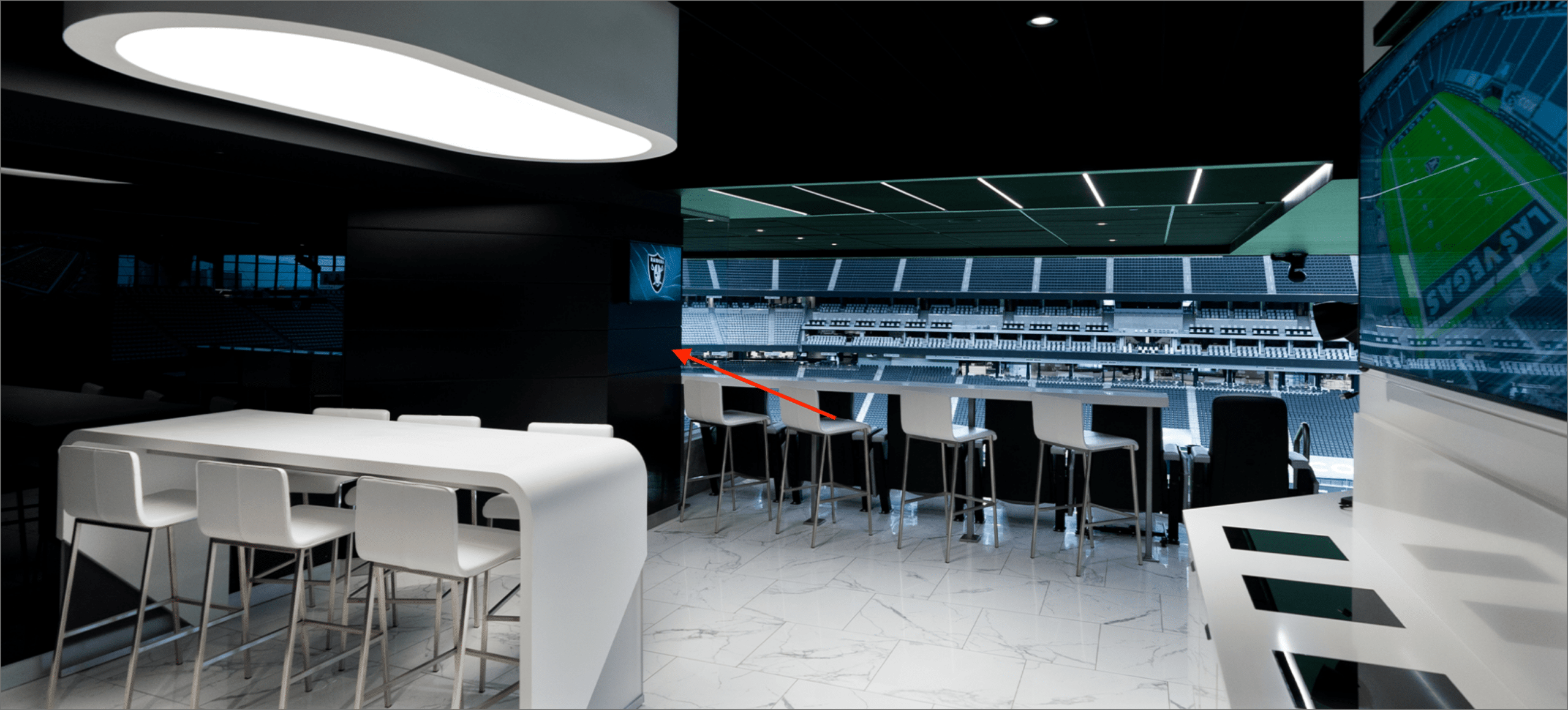 The Sunstone team was brought in early on the Allegiant Stadium project thanks to an existing relationship with a contractor contact. Because of this trusted partnership, Sunstone was able to help the architectural firms create solutions from the very start and make helpful suggestions to ensure progress was made despite any challenges that arose. The experts at Sunstone provided insight through every detail, road bump, and code requirement of the project.
Operable Walls for Flexible Spaces
Inside the stadium, Sunstone added 10 operable walls using Modernfold solutions. These operable partitions create versatility by making it possible to divide sideline clubs into two separate units, or rent the entire space out as one large suite. Additionally, Modernfold walls were implemented in locker rooms as well to create the potential for smaller spaces, which are necessary for multi-team tournaments.
Among the overall 10 Modernfold installations were four glass walls in the media room and end-zone suites, and also six solid walls for privacy in the sideline clubs, locker rooms, and coaches offices. Allegiant Stadium and its guests benefit from these space management and division solutions by being able to accommodate many varieties of events and gatherings with efficiency and ease.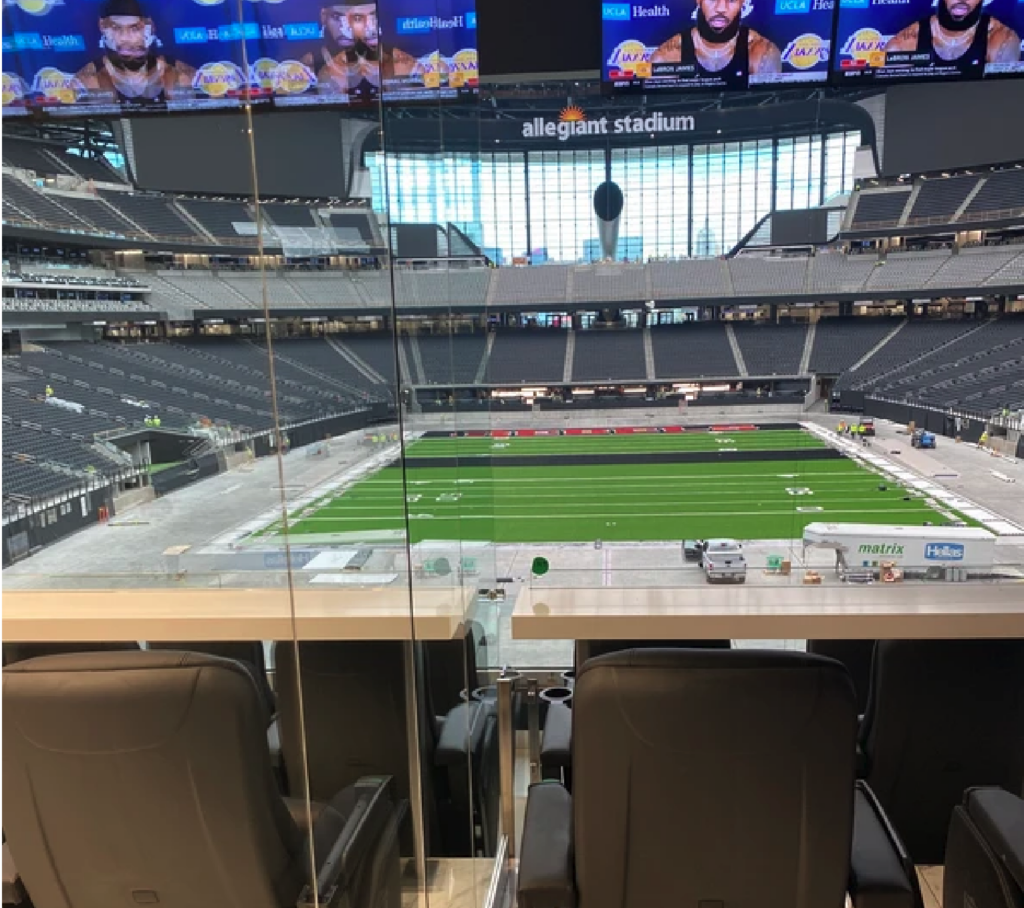 Facades for Natural Light and Privacy
In an effort to be as energy-efficient as possible, 10,000 square feet of Kalwall high-performance translucent building systems were added to the Raiders' indoor practice field at the team's headquarters. This allows for more natural light to stream into the building but doesn't let curious onlookers see inside. This security is essential for professional teams, as they can't risk their competition getting an insider view of their plays and strategy.
Kalwall offered the perfect solution in the facades since they allow natural daylight in without glare, which improves players' visibility during practice, and also allows for optimal video recording of practices.
Two major challenges of the Allegiant Stadium project were caused by the size and location of the stadium itself. Because its massive 62-acre footprint was so close to high-traffic areas, there were always many building teams working in and around the stadium build. Accessways changed almost daily, requiring crews to walk miles to their designated work areas and wasting precious energy and time that was not part of the original budget.
The SunStone team's expertise and knowledge helped keep this project moving forward. They had the experience to predict potential issues that could challenge the project, and also remain flexible to make the necessary adjustments to meet the budget and schedule.
Allegiant Stadium received its certificate of occupancy on July 31, 2020, a mere 31 months after starting construction. This $1.9 billion project is the second-most expensive stadium in the world and is now a successful events destination and a proud feature of Las Vegas.
Today, the stadium welcomes guests from around the world for a variety of events. The space was designed with the end-user in mind, with Sunstone playing an integral part by walking through every aspect of the design and installation process with the architects, general contractors, and crew to ensure a successful project. Staff can now quickly configure the rooms to meet the various needs of these organizations and are continually supported by Sunstone with ongoing service.